Wise Mag is the wisest AD optimized magazine blog WordPress theme for all people, vor allem für Blogger und Online-Unternehmer. It is unique, Lightweight, grundsolide und prallen, um schnell auf Ihre Bedürfnisse zugeschnitten. Es ist einfach, clean and visually comfortable which dramatically increases site visitors. Homepage can be created with unlimited combination possibilities of 5 block layout style, plus featured contents. Unlimited colors and fonts are available with freedom to customize your blog/site dynamically. You can even switch to dark or light color style of your choice to the maximum awesomeness. Load your site smoothly with 12 preloaders to choose from which is embedded with the theme.
It is designed specifically for bloggers, writers and blog marketers because it has a feature which you can't find most at other WordPress theme. Sein wesentliches Merkmal gehört das Auto Affiliate-Haftungsausschluss hinzufügen dynamisch Offenlegung/Haftungsausschluss auf jedem Blog Beiträge. Another is the AD and Adsense compatibility. You can insert it to posts, Seiten, homepage or even on header and footer which is significantly easy to control based on your preferences without needing a plugin that may bloat your site.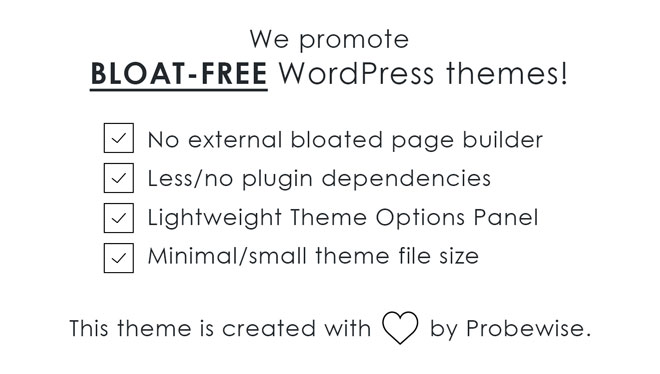 Alle Funktionen
Wise Mag is created passionately to provide the wisest magazine WordPress theme for all people. Activating the theme will unlock its undeniable features listed below.
100% Einklang
Netzhaut-Ready
Unbegrenzte Farben
700+ Google Fonts

Fontawesome Fonts

Schnelles Laden
Homepage Unlimited
Unbegrenzte Sidebar

Dark and Light Color Style

Suchmaschinen optimiert

Clean Code and Rock-solid framework

Integrierte Google reCAPTCHA

Syntax Highlighter for codes

Kluge Meta-Tags

Optimized for AD or Adsense

Wise Auto Affiliates Disclaimer

Beliebte Beiträge bei Tag, Woche, Monat oder Jahr

Enable/Disable Posts Date

Kluge Scroll-Funktionen
Kluge Tabs
Zurück-nach-oben-Taste

Sticky Menu and Sidebar

Wise Theme Options Panel

Raster und Post Blocklayout
5 Block-Layout, +

Featured Contents

Zwei Fußzeile Stil,

Widgetized and Single

Leicht Social Media Buttons
Automatische Beitrag
Child Theme kompatibel
Individuelle Login-Formular
Übersetzung bereit

Automatic Updates via Envato Toolkit

Unterstützt-Kontaktformular 7
Leistungsfähiger Widgets

Homepage Widgets

#Startseite – Komplex 1 Block
#Startseite – Komplex 2 Block
#Startseite – Komplex 3 Block
#Startseite – Komplex 4 Block
#Startseite –

Defaults Block

#Startseite –

Featured Contents

#Startseite –

Wise Ticker

#Weise über
#Kluge anzeigen
#Weiser beliebte Beiträge
#Kluge Recent Posts
#Klug-Skript
#Kluge Sitelinks
#Kluge Social-Media-Fußzeile
#Weiser abonnieren Fußzeile
#Weiser abonnieren Sidebar
#Registerkarte "klug" Beiträge
#Kluger Text Warnung

Aktualisierte Dokumentation und die freundliche Unterstützung
Compatible Blog Type
Seien Sie kreativ. Explore possibilities. Being customizable on its fonts, Farben, posts block (grid or defaults), layout column, Featured post, Fußzeile-Stil, you can create different types of blog you need such as:
News Magazine Blog

Lifestyle Magazine Blog

Technology Magazine Blog

Fashion Magazine Blog

Travel Magazine Blog

Food Magazin Blog

Health Magazine Blog

Entertainment Magazine Blog

Sports Magazine Blog

Und vieles mehr…
Wise Mag is the perfect choice to run a news, magazine and blog site using WordPress. It is created specifically for bloggers and online entrepreneurs which maximizes revenue through AD, Adsense and affiliate marketing. You are also assured of its quality and features because it is created with love and passion by Probewise.

Search tags: news wordpress theme, wordpress, blog theme, magazine theme wordpress, blog theme wordpress, wordpress magazine theme, simple wordpress theme, wordpress newspaper theme, best premium wordpress themes, wordpress theme magazine, wordpress theme blog, newspaper wordpress theme, clean wordpress theme, wordpress news theme, newspaper theme wordpress, minimalist wordpress themes