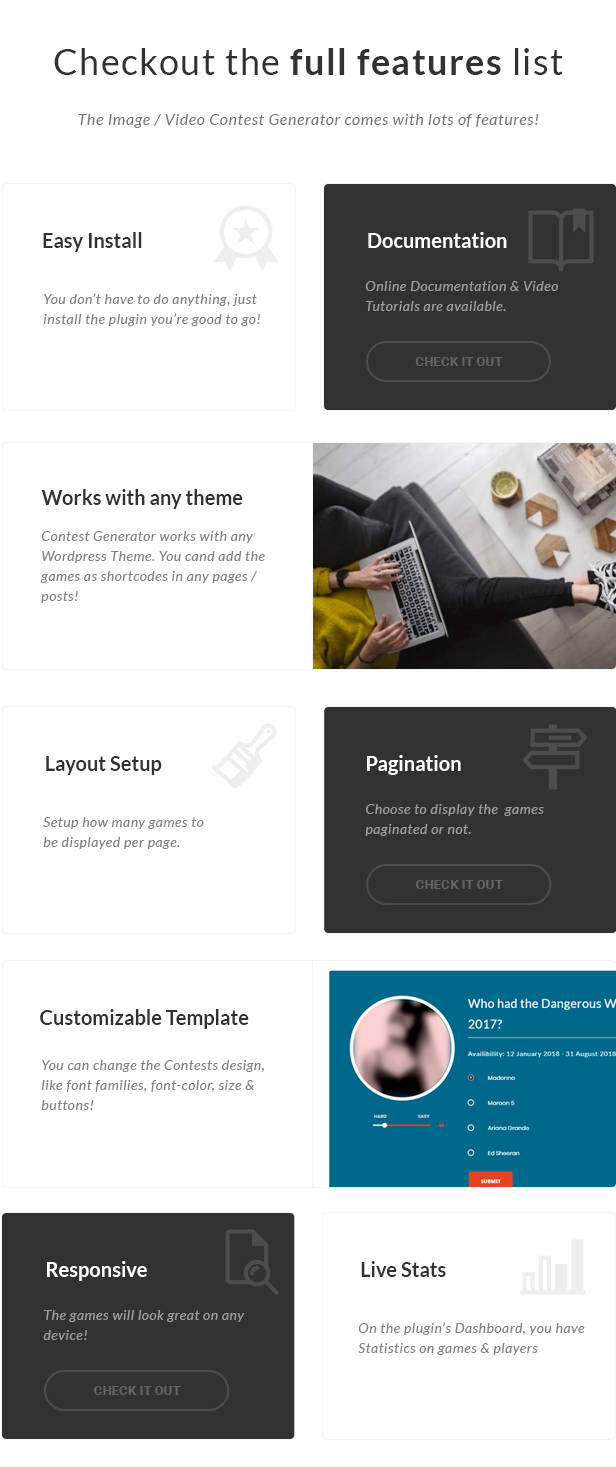 Usando the Image / Video Contest Generator for WordPress is the easiest way to run online concursos y giveaways in order to build a bigger audiencia y promote your business.

You probably know how much people love to play contests / Juegos , even if the "concursos" are as simple as generating points towards a prize or membership.

Or simply for fun!
Así, you know why your visitors would be interested in entering a contest on your website.
What are the benefits on having a contest on your website

:
It's a new opportunity to promote your business

, producto,

or service

.

You can Increase traffic to your website

A contest offers you the chance to show off the fun

,

human

,

and generous side of your business

.

You can increase your membership numbers

,

a user must have an account in order to play a game

You can increase social media engagement and shares
Lista completa de características :
Create an unlimited number of contests with unlimited number of questions

Select a start

/

end date for each game

.
Hay 2 tipos de "preguntas" – imagen o vídeo (

only youtube available

)

Each question has a custom number of points

.

Each contest has a custom maximum number of points per question

.
También,

to make it more difficult

, Usted puede Agregar un "desenfoque de"

effect on images

,

and a custom unblur time

.

Depending on how fast the user figures out what's the image about

,

the bigger amount of points he will get

.

Editable template

–

Custom texts

, colores & fuentes.

Once a contest has been created

,

users can share it on facebook

.

Admins can check out the popular contests and the popular players as well

– en el área de admin

Admins can check statistics on each contest and even reset them

.

Works as a WordPress Plugin

Diseño totalmente responsivo (Funciona muy bien en móviles (e.g. IPhone de Apple, Smartphone Android), Tablet (e.g. Apple iPad 2-3, Mini), Navegador de escritorio (Firefox, Cromo, Safari, IE 7+))