Simple Business Directory Pro
Simple Business Directory Pro is a unique and Multiusos Directory WordPress plugin for One Page Business Directory with Maps, Directorio de personal, Employee Directory, Vendors Directory, Restaurant Directory, Company Directory for Intranet and more.
Create innovative and elegant Business Directory on your WordPress website in a matter of minutes with Google Mapas, Upvote, Insertar, Front End User Tablero de instrumentos y mucho más! Turn your website into an community driven Authority by curating niche specific useful Business directories that your users will love, Marcador, integrar y compartir!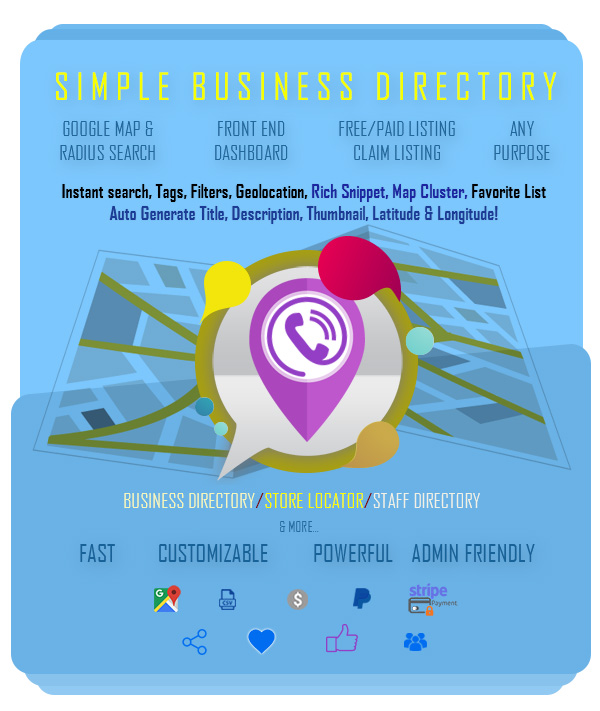 What Can You Do with Simple Business Directory

?

Forget those old style boring directory styles and layouts. Este innovador y potente, yet Simple Business Directory WordPress PlugIn allows you to create and curate comprehensive Business Listings and Map Directories with detailed business information and Tap to Call feature with ease.

Simple Business Directory is a Multiusos WordPress Directory plugin with maps that can be used in different scenarios and use cases. Here are some ideas:
Create a Local Business Directory
Is your website or blog about Local businesses? Create an Interactive, modern local business directory complete with mapas using SBD. Create different Lists for different types of business or Local Areas and display them all with Instant search and filtering options. Allow your users to upvote business listings, suggest or add their favorite businesses, create their own Bookmark lists or embed your busing listings on their website and more!
Simple Business Directory is also suitable as a:
Restaurant Directory

Nightlife Directory

Spa Directory

Beauty Salon Directory

Shop Directory or Mall Directory

Church Directory

Schools Directory

College Directory

Services Directory

Public Services Directory

Automotive Directory

Pet Shop Directory

y mucho más…
Create a Staff Directory or Employee Directory
Simple Business Directory can also be used for your company staff directory for the Internet or Intranet. Use staff or employee details like image, designación, Dirección (opcional), social media profile links to build the employee database and choose one of the 10 templates to display them in an incredible, búsqueda, shareable format. You can also use this flexible plugin as a Church Members Directory o Organization Directory of any type.
Create a Vendors Directory or Partners Directory
Are you a company with a large number of vendors or partner shops spread across the country or globe? Simple Business Directory can work as an efficient Vendors Directory plugin to list them in a user-friendly manner and make all the locations instantly searchable.
Create a Store Locator or Dealer Locator
This multipurpose map directory plugin can be used as a store locator, dealer locator or store finder and help your customers find your retailers. It has all the features you need to create an instant búsqueda store location finder on your website. Whether you have ten locations or 1000, you can manage them efficiently with Simple Business Directory. There is no special programming or extra setup required.
Make Money on Auto Pilot
SBD comes with the opportunity to Monetize your business directory. Inicio making money with your WordPress website! It is an extremely easy and super quick process. You can literally set up a quality money earning website under 48 hours with this fabulous WordPress Business Directory Plugin.

Simple Business Directory Pro Features
Usabilidad
Build business lists with dozens or hundreds of links and show them in one page

Topic based Business Lists that can be Displayed Category wise

Tabbed Category Listing of All Your Lists

Use as Business Directory

,

Resources page

,

Links page

,

Partners page

,

Associates page

,

Logo showcase

,

Local Business Directory

,

or Vendors page

. Las posibilidades son infinitas
Integrado Mapa de Google

that you can display with your lists OR not

.

Automated map generation from valid Address

.

Enable Tap to Call for main link

(

great for Intranet or staff directory

)

Display only Google Map without Lists

En vivo, en la página, Búsqueda instantánea
En vivo, en la página,

Instant Filtering of lists

Scroll to Top Button

Optional Fixed Position Filter buttons that can be Left aligned or placed at top of your Lists
Características de la comunidad
Allow other users and businesses to submit listing to your business directory

Complete front end user registration

,

login and link submission

Free or Paid Business Listing Opportunity

Auto approve option for user registration to the directory

New user role

:

SLD User

Auto approve links option

Manage user submitted businesses to the directory

Unlimited front end link submission for Admin user

Invite user interaction with Upvote

Choose your UpVote icon

:

Thumbs up

,

Firey Hot

, Corazón,

Star or Smiley Face

.

Allow users to embed your business lists on their websites

Allow registered users to create their own Favorite List of links
Diseño
10 plantillas para elegir

Fully responsive and modern designs

Directory templates are designed for different use case scenarios

Fixed position filtering area option

CSS personalizado para agregar tu propio estilo
Customizability and Flexibility
Choose theme font or google font

.

Configurable highlight colors for each list

Personalizar colores,

fonts and almost all aspects of the link lists

Complete control over directory list ordering

Custom Ordering of Lists

Order List Items by Up votes

,

Item title

, Fecha

Randomize Lists and List Items

Over a dozen shortcode parameters

Easy and Powerful Shortcode Generator

–

no need to hunt down all the different parameters

Custom JS and CSS panel to modify directory functionality

Pagination for List Items available as a shortcode option

.

Mark Directory Listing as New or Featured
Funcionalidad
Mapa de Google

from Addresses Entered into Business Listings

Upload image or use Font Awesome icon

Front End User Registration with Captcha

, Inicio de sesión,

Link Submission

Alternative option for link submission button

(

link to a contact form or google doc

)

Admin Approves User Submitted Businesses to Listing Directory or Set to Auto Approve

3

widgets for Latest Links

,

Most Populat Links and Random Links

Usuario por voto
Ajustes de admin para activar o desactivar la búsqueda en, filtrado

Ad/Text block with each list that supports any shortcode

Opción de incrustar.

Other website owners can now embed the useful lists you create on their websites with a backlink to your own website

. Ideal para SEO!

Google Analytics Integration for outbound link click tracking

!

CSV Import to create new lists easily

.

CSV Export your lists for backup

Import your exported CSV back with update lists
Staff Directory for Company Intranet

:
Create a staff directory or employee directory that your other users can use and bookmark colleague's details

.

Allow any logged in user to create their own favorite List by bookmarking links from your directory lists

.

Very handy tool for staff or employee directory for your Intranet

Dynamically add or remove links from bookmark list from front end

Use a single master CSV file to Export and Import your directory listings
Velocidad
Creating lists is a breeze with Simple Business Directory from a user friendly interface

You can also build your list as CSV file in excel and import your Lists

.

You can export all your lists as CSV file

, realizar cambios,

and import it back quickly

.

Simple Business Directory is optimized for speed and performance in code level

.
SEO Friendly:
The templates

'

HTML are SEO friendly

.

h2 and h3 tags were used as appropriate

.

You can define if a link should be no-follow or do-follow

.

This one-page directory plugin allows you to create a content hub and authority website

.
También,

as part of your main website this plugin is a great addition because outbound links to relevant websites are great SEO plus marks for your website

.
Monetization Option to Earn Money Online on Auto Pilot
Integrated PayPal payment option for user link submission

Create subscription package with any amount and your PayPal email ID

Free and/or Paid Listing to Earn Money

Define link visibility duration and your currency of payment

AD/Text Block with each list to make money using shortcode of other plugin

Simple Business Directory WordPress plugin is the best way to earn money online

–

and the quickest

.

You can start making money with WordPress in

48 horas o menos.
Directorio de enlace simple Pro viene equipado con 10 plantillas totalmente sensibles e innovadoras. We are working on more beautiful templates. Si eres un blogger, webmaster, seo specialist or marketer this powerful Link Manager is an indispensable plugin for you!

Getting Started with Simple Business Directory

:

Getting up and running with Simple Business Directory could not be any easier – yet it packs all the advanced features for a power user!
Paso 1:
Create Business Categories
Choose a business niche you want to curate business listings for. Create a Category for that topic inside Simple Business Directory. Categories help you organize your Link Lists in the backend and easily show them on any page.
Paso 2:
Create Lists
A List is comprised of many business listings. Each list entry can have an image (usually site logo), URL del sitio, a short description, número de teléfono, full address, Facebook, Yelp, twitter links etc. You can add as many links under one list as you want.
Paso 3:
Multiple Lists
If you want to show only a few links then one list is enough. But SBD shines when you create multiple Lists with 10-20 listings under each and assign all lists on the same topic to the same category.
Paso 4:
Pick Style

, Publicar

Go to any existing page/post or create a new page/post from WordPress backend. Open the [SBD] shortcode generator from your visual editor, choose your options, generate the shortcode and publish. Listo, your business directory is now live with a gorgeous looking template.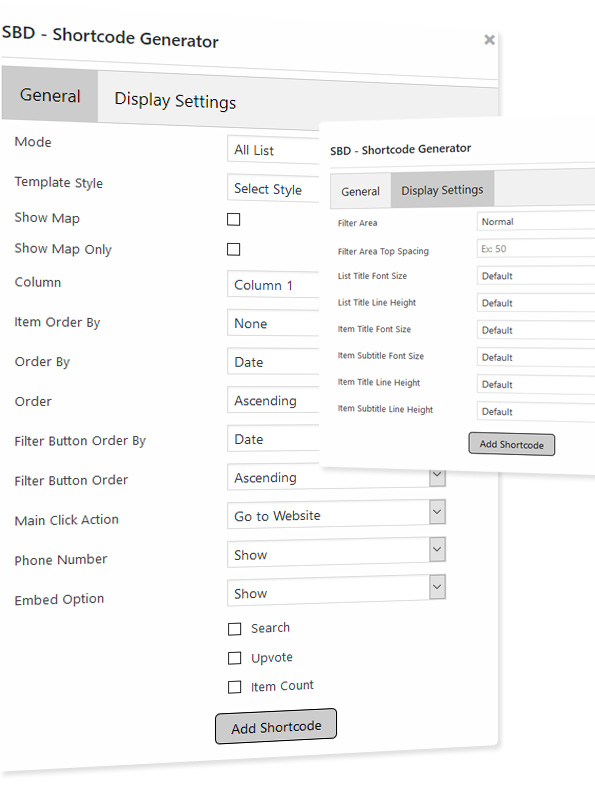 Funcionalidad futura
El plugin está bajo desarrollo activo. Queremos trabajar con usted mientras ampliamos las funciones de plugin por lo que resulta verdaderamente útil. Si usted tiene cualquier petición de característica, Háganos saber en los comentarios. Intentaremos nuestro mejor dar cabida a todas las solicitudes razonables de la característica.
Why Simple Business Directory Pro

?
Desarrollado por la empresa con 15+ años de experiencia. Usted puede confiar en nosotros
Siempre al día y bajo desarrollo activo de nuevas características
Documentación ampliada
Instalación fácil y sin defectos
Plantillas totalmente sensibles

Multi Purpose Directory Plugin

Powerful List Options panel

Características únicas
Rápida, Confiable, Práctico y amable apoyo uno-a-uno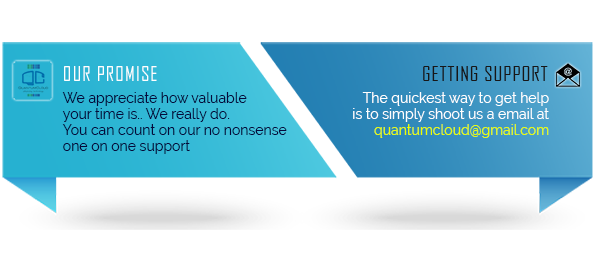 If you like Simple Business Directory – you may also like our Infographic and List Builder for WordPress plugin iList.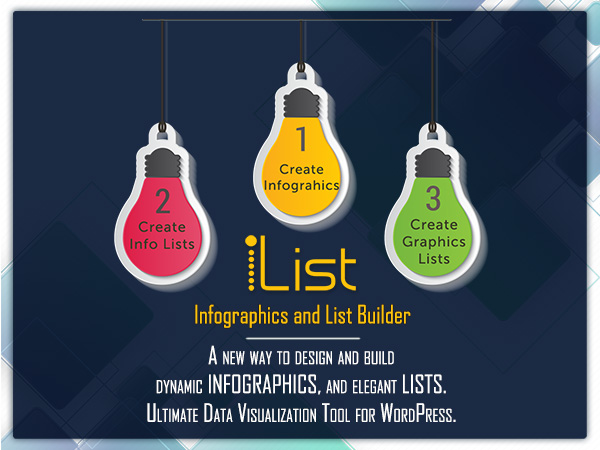 Historial de versiones


Versión 3.0 – Publicado en Feb 01 – 2018
Inicio