What is Ultimate Radio Player WordPress Plugin

?

Ultimate Radio Player WordPress Plugin is a powerful and extremely customizable responsive reproductor de radio for your website that can be installed in any wordpress theme, funciona en todos los principales navegadores y dispositivos móviles como iPhone, iPad, IOS, Android, Windows mobile or desktop. Ultimate Radio Player WordPress Plugin supports unlimited radio stations (Shoutcast / Icecast) , also as a bonus can play archivos MP3 but it's main purpose is to play shoutcast/ iceacst stations. Packed with huge amount of features like, extensive external API, Inline, privado / protegido con contraseña jugar, cifrar radio station source / Ruta de acceso, ventana emergente, multiple share buttons, customizable skin, Shoutcast y Icecast apoyo, Shoutcast history, información del servidor, makes it most impressive and complete radio player available on sale.
Ultimate Radio Player WordPress Plugin main features

:

Responsivo diseño.

Opcional encrypt radio station source / Ruta de acceso. Using this feature will not allow a user / software to see / steal the radio station source / path from the page source.

Móviles y escritorio optimizado.

Reproducción de audio ininterrumpida a través de páginas web (popup player in a separate window and browse the web while listening to music without interuptions!).
Opcional playlist window.

Generador de código

The option to randomize the playlist.

Opcional Inline (unique and sharable link for the current track).

SHOUTCAST & ICECAST apoyo. Juega tu radio favorita en línea directamente en el reproductor.

Optional support for mp3 audio.

The HTML markup playlists can be created manullay or generated from a database.

Tres tipos de efectos hover para las miniaturas de selector de ventana de lista de reproducción.

Opcional lista de reproducción y selector de ventana de lista de reproducción auto open (el jugador puede comenzar con la lista de reproducción ventana selector visible u oculta o lista de reproducción).

Opcional playlist search.

Lazy scrolling / carga, the possibility to initialize URP on scroll when the product is visible in the page, this way for example if the product is in a section of a webpage that is not visible it will not be initialized, instead the URP will be initalized only when the user is scrolling to that section in which URP is added.

Optional server info oyentes actuales, station title, Género, bitrate.

Fast Data Gathering, direct requests to Server via JSONP. Fast and automatic update.

ilustración del álbum, iTunes API se utiliza para recuperar toda la portada del álbum.

Animación texto de título de la pista si el texto no encaja.

Seis pieles incluido junto con los archivos psd.

Privado / password protected tracks (audio o video), This feature can be seen in action by playing this track. Please note the test password is Melinda but it can be set to any string.

Opcional start at random station.

If mp3 is used, Sólo mp3 file required to play audio across all devices.

HEX / CSS color support, the buttons colors can be modified with simple CSS by passing a hexadecimal color(ex: #FF0000) and even more, we have done it in a cool way that all graphics will retain the texture and at the same time apply the chosen color, example here.

The option to start at a specific station from the playlist.

apoyo estaciones de radio individuales o múltiples.

Potente API incluido.

Puede incluir varias instancias en la misma página.

Varias instancias automáticamente pausa/detener la reproducción cuando se inicia la nueva pista.

Valor de volumen inicial.

AutoPlay.

Opcional track thumbnail.

Botón lista de reproducción (opcional).

Botón selector de lista de reproducción (opcional).

Share button and share window with multiple social media sharing websites (opcional).

Jugador emergente botón (opcional).

Animación de ecualizador (opcional).

Detallado documentación y archivos de ejemplo.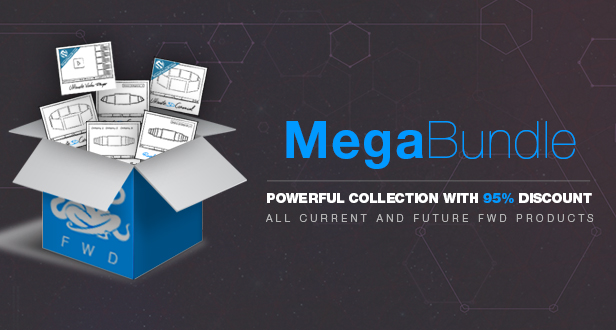 Etiquetas: radio, Shoutcast, Icecast, música, HTML5, mp3, streaming, lista de reproducción, móvil, responsivo, plugin, estación de radio, historia, vivir, búsqueda de