0 Llamaradas
0 Llamaradas
×
Wise Mag is the wisest AD optimized magazine blog WordPress theme for all people, especialmente para bloggers y emprendedores online. It is unique, ligero, sólida y ardiente rápido para satisfacer sus necesidades. Es simple, clean and visually comfortable which dramatically increases site visitors. Homepage can be created with unlimited combination possibilities of 5 block layout style, plus featured contents. Unlimited colors and fonts are available with freedom to customize your blog/site dynamically. You can even switch to dark or light color style of your choice to the maximum awesomeness. Load your site smoothly with 12 preloaders to choose from which is embedded with the theme.
It is designed specifically for bloggers, writers and blog marketers because it has a feature which you can't find most at other WordPress theme. Una de sus características importantes es la renuncia de afiliados de auto para agregar dinámicamente la divulgación de la responsabilidad en cada blog posts. Another is the AD and Adsense compatibility. You can insert it to posts, páginas, homepage or even on header and footer which is significantly easy to control based on your preferences without needing a plugin that may bloat your site.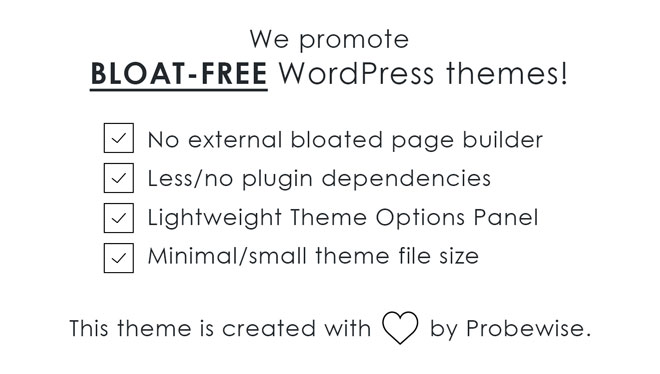 Características completas
Wise Mag is created passionately to provide the wisest magazine WordPress theme for all people. Activating the theme will unlock its undeniable features listed below.
100% Totalmente responsivo
Lista de retina
Colores ilimitados
700+ Google Fonts

Fontawesome Fonts

Carga rápida
Página Web ilimitado
Sidebar ilimitado

Dark and Light Color Style

Buscador optimizado

Clean Code and Rock-solid framework

ReCAPTCHA de Google integrado

Syntax Highlighter for codes

Sabio Meta Tags

Optimized for AD or Adsense

Wise Auto Affiliates Disclaimer

Popular Posts por día, semana, mes o año

Enable/Disable Posts Date

Características de desplazamiento sabio
Tabs de sabio
Botón back to top

Sticky Menu and Sidebar

Wise Theme Options Panel

Red y el diseño del Post de bloque
5 Diseño de bloque, +

Featured Contents

Estilo de pie de página dos,

Widgetized and Single

Botones redes sociales ligero
Automática aparece Post
Compatible con tema infantil
Formulario de Login personalizado
Lista de traducción

Automatic Updates via Envato Toolkit

Formulario de contacto de las ayudas 7
Poderosos Widgets

Homepage Widgets

#Página de inicio – Complejo 1 Bloque
#Página de inicio – Complejo 2 Bloque
#Página de inicio – Complejo 3 Bloque
#Página de inicio – Complejo 4 Bloque
#Página de inicio –

Defaults Block

#Página de inicio –

Featured Contents

#Página de inicio –

Wise Ticker

#Sabio sobre
#Anuncios de sabio
#Sabios mensajes populares
#Sabios mensajes recientes
#Escritura inteligente
#Sitelinks de sabio
#Pie de página del sabio de los medios de Comunicación Social
#Sabio suscribirse a pie de página
#Sabio suscribirse Sidebar
#Wise ficha mensajes
#Alerta de texto inteligente

Documentación actualizada y amigable soporte
Compatible Blog Type
Ser creativo. Explore possibilities. Being customizable on its fonts, colores, posts block (grid or defaults), layout column, post recomendado, estilo de pie de página, you can create different types of blog you need such as:
News Magazine Blog

Lifestyle Magazine Blog

Technology Magazine Blog

Fashion Magazine Blog

Travel Magazine Blog

Blog revista alimentos

Health Magazine Blog

Entertainment Magazine Blog

Sports Magazine Blog

Y mucho más…
Wise Mag is the perfect choice to run a news, magazine and blog site using WordPress. It is created specifically for bloggers and online entrepreneurs which maximizes revenue through AD, Adsense and affiliate marketing. You are also assured of its quality and features because it is created with love and passion by Probewise.

Search tags: news wordpress theme, wordpress, blog theme, magazine theme wordpress, blog theme wordpress, wordpress magazine theme, simple wordpress theme, wordpress newspaper theme, best premium wordpress themes, wordpress theme magazine, wordpress theme blog, newspaper wordpress theme, clean wordpress theme, wordpress news theme, newspaper theme wordpress, minimalist wordpress themes
0 Llamaradas
0 Llamaradas
×