Completely customize the look

&

feel of any form on your WordPress website

(

inluding Contact Form

7,

Gravity Form and Ninja Form

)

Form Styler Ultimate lets you add easily style forms on your WordPress site. It has tons of features that gives absolute control on the appearance of your forms.

Tested and compatible with some of the famous themeforest themes, like Avada, Betheme, X tema, Fold, The7, Bridge as well as WordPress default themes, like Twenty Fifteen.
Lista de recursos completa
Compatível com formas de gravidade,

Ninja Forms and Contact Form

7

Our plugin is out-of-the-box compatible with these famous WordPress form plugins. Just pick the form where you want your style to be applied. Sem habilidades de codificação necessárias!

Compatible with any form

Style any form on your site. Login forms, WooCommerce forms, formas de boletim informativo, even search boxes! Just add your form's class and you are set.

Ready-to-use temas

Escolher entre 7 ready-to-use themes and make cool forms on the fly!

Multiple themes on same page

You can use multiple themes on the same page.

Temas personalizáveis

You can customize each theme separately.

Opções de estilo ilimitado

Style the form the way you want! Escolha a cor de fundo, fronteiras, margem, padding options and many, muitos mais.

Fontes do Google

Select from a large library of Google fonts and set the desired typography for all your inputs, rótulos, espaços reservados, submit buttons, etc.

Gravity Forms complex fields

Fully compatible with address, name and password fiels of Gravity Forms.

Dropdown arrows

Remove the boring arrows from your dropdowns and select your own by the famous Font Awesome vector library. Further customize the arrows by changing color, tamanho, etc.

Radio and checkboxes

No more boring checkboxes or radio buttons. Just select your own Font Awesome icons. Further customize the icons by changing color, tamanho, etc.

Date pickers

You can even customize the appearance of the date picker on the date field.

Submeter botão

Fully customize your submit button. Set the width, posição (esquerda, Centro, direito), fonte, cores, raio de fronteira, preenchimento, etc.

Validation errors

Customize general or input specific validation errors or even invalid input validation borders!

Mensagem de confirmação

E é claro, you can customize the final confirmation message the user sees after submiting the form.

Hide labels

You have the ability to hide labels for fields. Útil quando você deseja usar espaços reservados apenas.

Design responsivo

Forms will look great on both desktop and mobile sites.

Export/Import

Easily export the form styles you create.
Demo live preview
Visite nosso demo live preview to see examples of Form Styler Ultimate in action!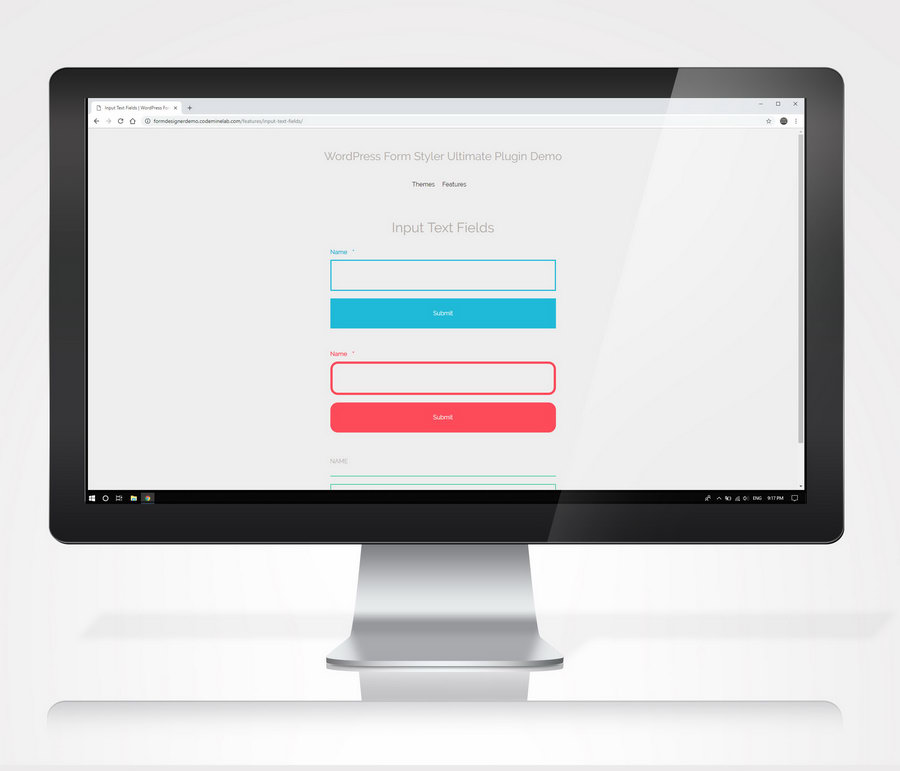 Documentação
Take a look at our extensive documentação on-line.